Do you practice a sport? Sport can enhance community spirit, personal development and social integration. Baron de Coubertin founded the modern Olympics but the origins of sport in general lie in the practice for combat and war. Today lots of people of all ages engage in sport activities, or any kind of physical exercise, for the benefits of health-related fitness. Sport practice benefits children and teenagers whether you're joining a team in elementary school or playing just for fun with your friends on a regular basis. The more time youngsters spent sitting at class desks or playing computer games the more important it is to promote sport practice. Yes, it's both good for the body and for mental fitness because it involves memorization, repetition and learning. It's also good to have teammates because they can support you when you have a problem. Sports practice creates strong bonds; it's a perfect way to make friends. Then you grow and throughout your lifetime a sport practice can help you control your weight, keep muscle tone and cardiovascular health, even fight depression. You will feel good if you move, believe me. You can get in shape by doing it by yourself at home or at the gym. But playing a sport can be more fun especially if you belong to a team that can encourage you to show up at practices. Moreover that team celebrating moments will sure boost your happiness and fuel your will to go on.
Sport is a kind of physical activity, it's a kind of a play which involves a struggle with oneself or with others, or a confrontation with natural elements. If there is competition there must be a spirit of sportsmanship. The ancient Olympic Games were religious festivals which commenced with a procession along the sacred way, the Pompike Othos. In the end there was this oath-taking. Only men could compete, all naked. One woman was permitted to attend, the priestess of Demeter, the Goddess of earth and harvests.The ceremonial crowning of the victors with olive leaves on the fifth day was called the Komos. After this celebration winners returned home in triumph.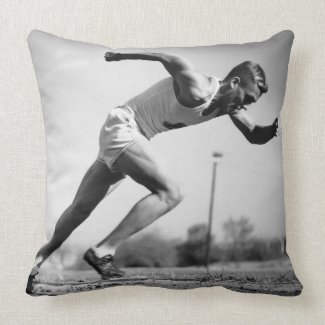 In modern sport women's participation is huge and natural. Another big difference since ancient times is that professional sport has never been so serious. Professional coaches have special education and train a lot better than years ago in sports ranging from gymnastics to football due to better understanding of the human body and also tactical innovations. Each coach knows that each athlete has an individual fitness profile and each competitor is different. So they try to make the most of it. Athletes are better prepared to handling stress, they are aware of nutrition factors, it got all complex! And specialist equipment advances continually. Money got also a bigger role in sports scenario. The best athletes are very well paid as well are those who manage them or the teams. After big TV contracts athletes compete with movie or television stars for space in magazines and are frequently invited to be image to famous brands. There are still underfunded athletes practicing for no other reason than the love of the sport, of course!
The business model for television has been to schedule sports events at certain times and expect a mass audience to view them. Sports were turned into big time entertainment. More action, more drama, more color.TV made a difference in the process with unique camera angles, announcers paying for fabulous and creative adds, instant replay and great close-ups, players and coach interviews… The television companies work to make these men and women real world stars. TV allows us inside the lives of athletes, making sports as much about personalities as scores. TV coverage allows colors to pop on the field but also in the stands. Players and fans as well become characters of the show. And don't forget about the powerful nationalist element behind sport. Some countries are fond of one sport in particular, like football or gymnastics. In moments like World Cup television turns Earth into a gigantic soccer ball and countries stop to watch the game. And today another player is on. In the future maybe internet access will make possible to design our own sport entertainment. We are closer to the sport action in our living room than the average spectator on the stands!

My Heart Belongs to a Baller Throw Pillow by sportsters
Find other Basketball Pillows at zazzle.com
Skydive the Ground Is The Limit Pillows by sportsters
Look at another Pillow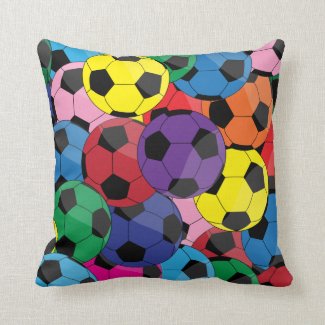 Colorful Soccer Ball Collage Pillows by DesignsbyDonnaSiggy
Browse more Graphics sharp clear images Pillows at Zazzle
I'd Rather Be Cycling Design Throw Pillow
by
SjasisSportsSpace
Browse Zazzle for a different
pillow
.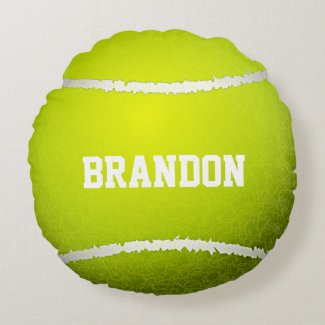 Tennis Ball Design Round Pillow
by
SjasisSportsSpace
Find other Round Round Pillows at
zazzle.com