Hello my friends and customers!
I wrote about my canary in a post . If you have read it you already know about my new interest in birds. Out of my recent passion for the feathered creatures I created a line of products for the Holiday. You can check the above board where you can find what you need for a Christmas party or dinner - invitations, postage, envelopes, return address labels, table cards, paper plates and many other essentials like greeting cards, gift wrapp ing paper or stickers.
And...if you're not in a hurry you can visit my store PAPELUSTRO where you'll find lots of different products with the red Christmas bird. I think they will apeal to bird lovers, man and women, young or old! Have a look at some of it!
Red Cardinal Collage All-Over Print T-shirt by papelustro
Look at other Cardinal Panel T-Shirts at zazzle.com
Cardinal Bird on a branch collage iPhone 5 Wallet Case by papelustro
Shop for iPhone 5 Wallet Cases online at Zazzle
Cardinal Bird on a branch collage Memory Boxes by papelustro
Find more Cardinal Keepsake Box at Zazzle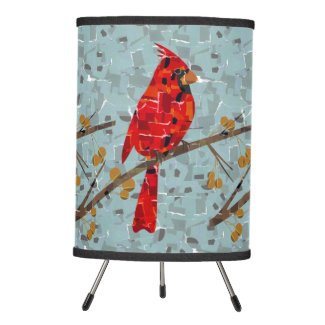 Cardinal Bird on a branch collage Tripod Lamp by papelustro
Find more Cardinal Lamp-In-A-Box Lamp at Zazzle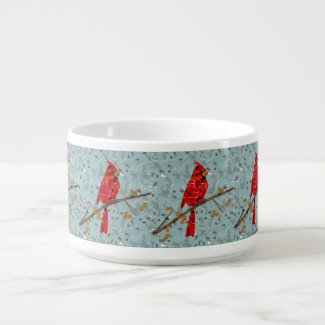 Cardinal Bird on a branch collage Chili Bowl by papelustro
Check out more Zazzle Chili Bowls
Cardinal Wireless Mouse by papelustro
Browse more Cardinal Wireless Mice
The cardinal is a beloved bird.It's easy to understand why. It has this incredible red plumage and a striking singing that can be appreciated in the video I posted above. The males are red, the females have less color but they are also pretty. I read that the cardinal is the official
state bird of seven american states - Illinois, Indiana, Kentucky, North Carolina, Ohio, Virginia and West Virginia. It is also the mascot for sports teams.
They gather in big flocks of about 70 birds during winter time - I would like to watch something like that with my own eyes! It must be stunning! Not sure if the name cardinal has to do with the vestments used by Catholic cardinals or if these got the be called this way after the bird...!
They like to eat
sunflower seeds but the main dish are small bugs like
beetles, grasshoppers, termites, ants, flies and other species - they sure like meal variety
! You can learn more about cardinals on this site named
All about birds
!